Catspad is the brainchild of two high school friends, Julie Leleu and Brice Cavelier. They were on vacation when Julie's cat, Mozart became sick. Julie, co-founder and CEO stated "Mozart means the world to me. Taking care of him is not easy, especially when I am overwhelmed or when I go on vacation". Julie was inspired to create a product to help pet parents take care of their companion in an easy and natural way and Catspad was born.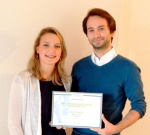 In this busy world, when we either working until late hours or travelling. It becomes a critical choice while  closing the door on a beloved pet can be hard for pet parents with hours spent away from home, working or traveling. But, with Catspad, pet owners are stress free knowing their cat is taken care of. With fresh food and water in the same pet feeder, easy to use technology and customizable options, Catspad is the smart pet feeder that allows owners to stay connected to their pet's health.
After downloading the free companion app available on iOS and Android, Catspad can be connected to a home Wi-Fi network. Owners set alarms to determine the time and amount of food to be distributed and activate the fresh water fountain. When there are multiple cats in the house, separate profiles can be created to fit the unique dietary needs and personality of each cat.
Keeping cats healthy is important to the Catspad team. Catspad has a tight food storage unit to prevent oxidation and to keep dry food fresh. The water fountain in Catspad encourages cats to drink more in addition to a double water filter. The first water filter has cotton-wool/perlon material and removes food, dirt and hair, while the second water filter has active carbon to encourage cats to drink more without the taste and smell of chlorine.
An RFID sensor designed to identify each cat in multiple households and keep non-feline friends away sits in a pendant that comes with Catspad. The sensor tracks the cats' food and water consumption through the app. In addition to the RFID sensor, weight and pressure sensors in.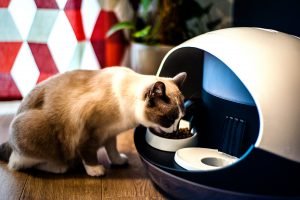 Catspad itself alert owners when food and water reserves are getting low. Pet owners can customize how many days they would like to be notified in advance.
The feeder stores 3.75lbs of dry food and 8 liters of water. In case an emergency prevents Catspad getting power from an outlet, a backup battery is included.
The Catspad team is made up of cat lovers with the philosophy of "cats rule". The background of the team is diverse bringing together engineers, veterinarians, developers and communications specialists. Their goal is to create the smartest solution for pet care and create Catspad, the only smart pet feeder that makes the lives of pets, their needs, and the lives of their humans easier.