In a recent advances in the study of the brain have revealed that listening to music may influence other activities for kids. The cerebral cortex self organises as we engage with different musical activities, skills in these areas may then transfer to other activities if the processes involved are similar. Some skills transfer automatically without our conscious awareness, others require reflection on how they might be utilised in a new situation.
 If you are a busy mom and looking for ways  to engage your kids with music. Tired of playing the same song for your child over and over on your smartphone? As digital platforms become commonplace to listen to music, it can be difficult for kids to listen to music without mom and dad's help.
Co-Founder and CEO Theodore Marescaux's inspiration for Jooki came from his three-year-old daughter. She'd asked him to play a song on his smartphone, and came back again and again to hear the same song. Marescaux, along with co-founders Will Moffat and Pieter Palmers created MuuseLabs in October 2014 to work on a product that would give children the autonomy to listen to music on their own.
"As fathers ourselves, we understand the need for a safe, hassle-free product," Marescaux said. "Our goal has been to give the best to our children and we think that all kids should be able to enjoy the freedom and joy of music."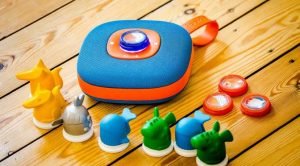 Jooki is a stand alone jukebox for children to listen to music, audiobooks or stories with Jooki Stars. For parents who worry about handing a tablet or smartphone to their child to listen to music, Jooki is screenless device encouraging kids to use their imagination to listen to music rather than look at a screen. Jooki is kid friendly and easy to use. To play music, children place a Jooki Star on top of Jooki to hear the playlist assigned to that Jooki Star.
Jooki can be connected to surrounding devices via Bluetooth to stream music from an internet or Spotify radio station. To create a specific playlist ie, traveling, dancing or bedtime, place a Jooki star on top of Jooki, use a laptop or the companion Jooki app to drag and drop files from an Itunes library or Spotify and assign a playlist to the Jooki star.
To save parents from listening to Disney's "Let it Go" for hours on end, Jooki sports a headphone jack and has expandable storage to hold 1000+ songs for offline play. Take Jooki anywhere and listen to music from high quality speakers at a sleepover party, on the way to school, Grandma and Grandpa's house or even outside in the park. Jooki has 8 hours of battery time for those hours away from home and designed to withstand daily wear and tear. Jooki is sturdy and spill proof for active kids.