Equality for women is progress for all. This belief drives the World Woman Foundation, and it's shared by Riceland Foods—the 97-year-old Arkansas-based, farmer-owned cooperative and sponsor for the October 11-12 World Woman Summit in Little Rock, Ark.
The largest miller and marketer of rice in the United States and a major player in the world's food service and soybean industries, Riceland currently nears an annual revenue of $1 billion with more than 5,500 members. From its farm-family owners to customers, the brand has long been associated with smart, strong women. "Women play a vital role in agriculture across Arkansas and the U.S. Farming is often a family business which supports women in lead roles or as key players," says Ben Noble, vice president of marketing and strategy. From a consumer standpoint, women are the primary decision-makers for what ends up on dinner tables.
Raised on a rice farm in Ethel, Ark.—the family business since 1892—Noble knows a thing or two about agriculture and the influential responsibility of women in it. After teaching school all day, Noble's mother moonlighted as the farm's CFO. "I remember my parents sitting at the kitchen table every month going through stacks of bills, making sure they were all paid," Noble says. "She kept him organized. They made a great team."
At school, Noble's mother witnessed childhood hunger firsthand. "For some of those kids, the school was the only place they ate," Noble says. Riceland knows the importance of nutrition and, through partnerships with organizations like Rice Depot and Arkansas Hunger Relief Alliance, works to address nutritional disparities in the state.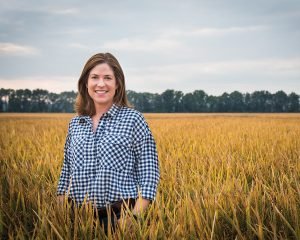 Fourth-generation Arkansas farmer Jennifer James grows rice on her 6,000-acre farm in Newport. All business operations revolve around a commitment to sustainable agriculture through technology that conserves and preserves natural resources. "She's extremely active as a community leader, not just for Riceland, but for the industry," explains Noble. She chairs the USA Rice Federation's Sustainability Committee and was named Farmer of the Year by Field to Market: The Alliance for Sustainable Agriculture in 2017.
"Riceland was sustainable before sustainable became a buzzword," Noble says. The Stuttgart plant is a perfect example. Rather than discarding the rice kernel husks, they are burned in a co-generation facility and transformed into energy that fuels the plant with 17 percent of its electrical and 14 percent of its natural gas needs.
As technology changes the world, GPS helps tractors track crop production. Precision agriculture allows farmers to strategically manage their land for healthier yields—a win-win for both farmer and consumer. Trucks have become wireless mobile working stations, affording farmers instant communication with colleagues and customers via text, email, and social media.
However, there is no farming future without education and investing in the next generation of farmers. With a mutual interest in STEM (science, technology, energy, math) education—Riceland has partnered with Museum of Discovery and CEO Kelley Bass to launch a STEM-centered program designed to educate and empower middle- and high-school girls in Arkansas' Grand Prairie and Delta regions.
Hear both Noble and James speak at this year's World Woman Summit, October 11-12 in Little Rock.