As a woman and a travel journalist, I am truly honored to be the Official Travel Host for The World Woman Summit. It is a dream come true to be a part of an organization like The World Woman Summit which represents everything that I am deeply passionate about in life. My personal and professional mission continues to want to inspire the public to travel. I am a huge advocate for women empowerment and travel.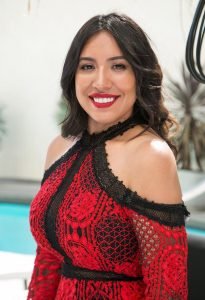 I grew up watching women like Samantha Brown on The Travel Channel. And I remember telling my mother, "I want to be her when I grow up." Samantha ignited a hope that I could also host a travel show in the future. And I got an opportunity to tell her that when I interviewed her a few years ago. Now, I feel is the time for a Latina travel host to come on the big screen. I am thankful that there were always women in my path like my mother who encouraged me to follow my dreams. I feel it's very important that all young girls can count on a professional mentor or other women for inspiration. And I hope to be a positive role model for women all over the world.
I wrote this on a recent flight to India for a global travel conference. I am reminded of my life purpose because I get the same butterflies in my stomach every time I visit a new country. The excitement is unmistakable! I am frequently contacted by women all over the world who ask me for travel advice, and as such, I am very grateful to be a resource for women and travel. Additionally, I am a proud Global Ambassador for the non-profit Synergy of Empowered Women. I even created a series of travel workshops for women because I realized the demand was very high.
I highly recommend all women embark on a solo trip at least once in their lifetime. And they can start somewhere local first. What I tell women about travel is to first be comfortable in your own company whether that's in your own city, country or overseas.  However, I do understand there can be additional safety concerns for women when it comes to traveling. I always guide women to also be mindful about the culture and their surroundings when they travel.
I would love to share one of my favorite quotes by John A. Shedd: "A ship in a harbor is safe, but it not what ships are built for." I am so happy that I took chances in my life towards my dream. Otherwise, I would not have grown into the woman that I am today.
The World Woman Summit will be an incredible event for women everywhere. I am grateful to interview many of the exceptional speakers and attendees during the event. Additionally, I can't wait to explore the Clinton Presidential Center and show you why Little Rock, Arkansas is a top destination to visit. Stay tuned for much more to come.