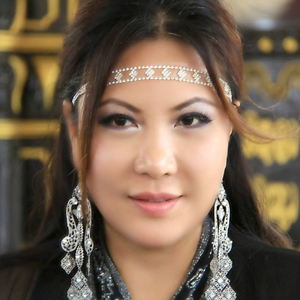 Princess Maria Amor
Princess of Philippines
Crown Princess Maria Amor has a noble heart. Love of humanity is the driving force in her life. She is truly humanity's Traveling Princess. Born in the Philippines, an intelligent, extremely lovely girl became a beauty queen, model, keep-fit expert, natural leader and entrepreneur. Fame took her to the U. S. A., where she excelled in international charity work.
Her parents shaped her ideals and her love of humanity. Crown Princess Maria Amor's mother, Nanay Erlinda Carasco Torres R. I. P. encouraged and supported Maria in her quest to help humanity. Maria's mother taught her to be compassionate and loving to those in need. Now, Princess Maria Amor continues her work honoring the memory of Nanay Erlinda Carasco Torres, whose boundless love is deep in her heart.
Crown Princess Maria Amor realized that charities can benefit from learning from each other. She is the founder of We Care for Humanity, the illustrious Global Officials of Dignity Awards and the prestigious We Care for Humanity Humanitarian Summit which empowers humanitarians to enlighten the globe with their shared knowledge.
A non-political influencer of world affairs for peace, Traveling Princess Maria Amor works for the advancement of the people of the world, in peace, health, economic standards, democratic freedom and education. She is as distant from politics as the moon and the stars. The first Global Officials of Dignity Awards 2013 was held at The Academy of Television Arts & Science in Los Angeles. The annual Global Officials of Dignity Awards and Humanitarian Summits 2014/2015/2016 were held at the United Nations Headquarters New York with the [2 day] W. C. H. Humanitarian Summit. W. C. H. is registered at United Nations Department of Economic and Social Affairs.
Princess Maria Amor continues to send Humanitarian Ambassadors of We Care for Humanity out across the Globe. Every year We Care for Humanity expands its network into new countries doing good from healthcare to Global Santa. Crown Princess Maria Amor understands that like-minded people working for the humanitarian cause can achieve more by coming together in knowledge and understanding. Everyone in the world needs be a team player for the good of humanity and the protection of our Earth.
Crown Princess Maria Amor speaks for those who can't speak for themselves. She holds the plate for the hungry. Provides the cooker in the soup kitchen. No task is too lowly. A smile or a cuddle for a frightened child is the love the Princess gives. The great and the good join in her humanitarian quest.
Maria Amor Torres is a royal crown princess recognised across the world by her hands-on approach. She has the support of members of the U. S. A. Congress and Senate for her non-political humanitarian work. Princess Maria Amor uses her high royal status for the promotion of peace and humanitarian ideals. Her ideals unite countries and religions.
Money raised by We Care for Humanity goes to fund its work in many countries. Education, vaccinations, health, food, clothing and shelter are priorities. The tasks that We Care for Humanity supports continually grow in diversity, abandoned children, refugees, acid attack survivors and victims of natural disasters.
The Traveling Princess Global T. V. Show is broadcast internationally and raises the profile of the many charities and issues they address. Traveling Princess Maria has been welcomed by the lowly and the highest in all the countries of her royal visits.
In 2015 Crown Princess Maria Amor authored and published her first book We Care for Humanity Poetry with Maureen Brindle W. C. H. Official Poet. The book contains poetry and photographs associated with her Royal Tour 2014/2015 and it was launched at the 3rd Global Officials of Dignity Awards.
Later in 2015 Crown Princess Maria Amor published The Greatest Humanitarians of the World 2015, highlighting the 3rd Global Officials of Dignity Awards and opened her author's page to the world.
Crown Princess Maria Amor is associated with promoting the arts and in 2016 published, with Maureen Brindle, We Care for Humanity Anthology featuring the writings of her supporters and her Royal Tour 2015/2016. It was launched by Crown Princess Maria Amor at the 4th G. O. D. Awards United Nations Headquarters N. Y.
Her global charity has spread from the U. S. A. to many parts of the world including United Kingdom, India; Pakistan; Sri Lanka; Morocco; Malaysia; Nepal; Philippines, Indonesia, Kenya and Egypt.
Crown Princess Maria Amor was honored with the first OSJ Medal of Merit for her profound service to Humanity.
Crown Princess Maria has never forgotten her roots and works for the needs of the children of the Philippines as she does for all children. She supports telemedicine as an exceptionally efficient method of healthcare provision and education, with many social benefits.
Crown Princess Maria works tirelessly for economic progress and international trade, which is the important factor in linking the interests of countries, to provide stable, lasting, peace and stability.
The Traveling Princess stands for peace between nations, uniting faiths with the love of humanity to improve conditions for the needy. Peace begins with one word humanity.
A truly noble crown princess in touch with progressing humanitarian aims in a changing world. She walks in love and humility addressing needs, the founder-leader of We Care for Humanity's a world team addressing world problems.
The peace of the world is the supreme objective in these changing times and it is only by cooperation at a human level that peace and humanitarian aims will be achieved. The Traveling Princess is a beacon of light. Her work is respected all over the world.